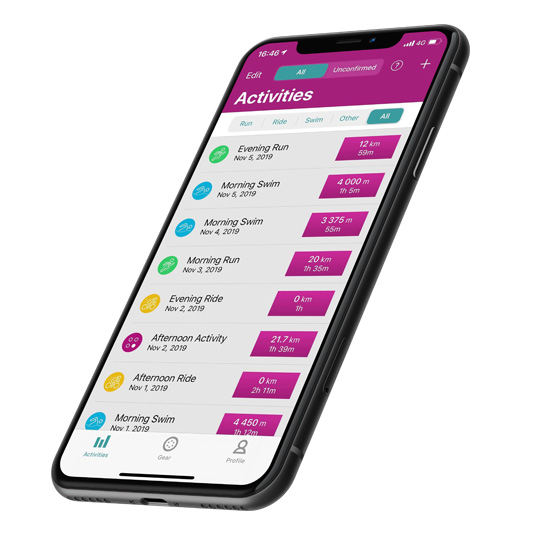 About GearTracking
GearTracking is the ultimate app for tracking your sports gear usage. If you're a runner, cyclist or triathlete and serious about your gear; you simply need GearTracking.
Never again will you wonder if your running shoes need replacing, what was the last service you did on your bike, how many hours you spent on your turbo trainer, how old your helmet actually is or how many hours your wetsuit spent in the water.
The great thing about GearTracking is that it stores data on your device as well as in the cloud. So the app is responsive no matter your internet connection and you can use it on multiple devices and have the data synchronized.
Download
What Type of Athlete are You?
Unless you run barefoot, we believe you can benefit from GearTracking features.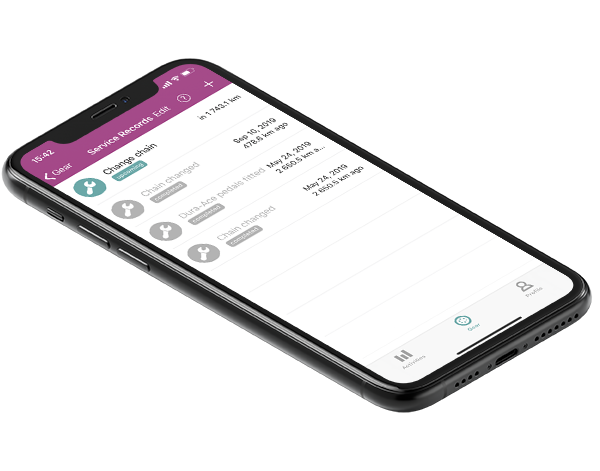 You are a Cyclist
You will be able to keep track of your bike servicing. For example, you can note when (in terms of both date and your bike's mileage) you changed the chain or tires on your bike and thus have an idea when you will need another chain or what is the life expectancy of a particular tire model in combination of your riding.
Download
You are a Runner
It's not recommended to use running shoes beyond 800km or 500 miles. If you go significantly beyond this, you risk an injury. With GearTracking, you will always know how many kilometers (miles) you ran in your shoes and how much life you have left in them.
Download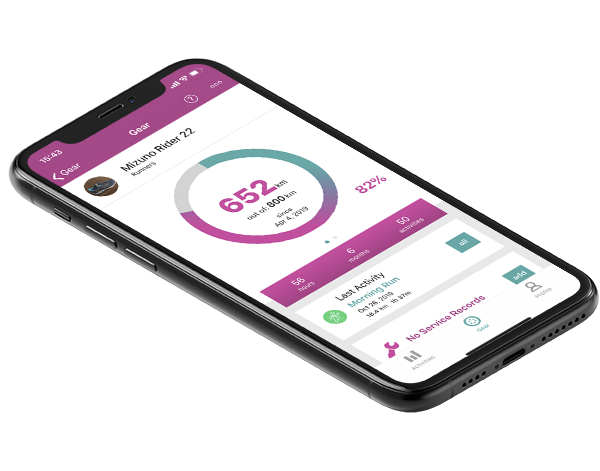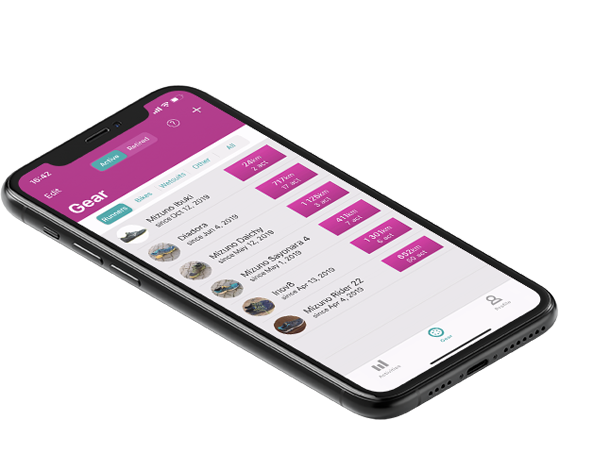 You do Various Sports
Of course, you are not limited to bikes and runners. Are you a triathlete who also does XC-skiing? You may want to track your shoes, bikes, helmets as well as wetsuit and skis. GearTracking has you covered.
Download
Know your runners mileage
Don't risk injury by using your runners beyond their usefulness. Know exactly how many miles you have in each pair.
Keep track of your bike service
Ever destroyed a cassette and chainrings because you failed to change the chain in time, or got a puncture because the tire was worn out? You'll never make those mistakes again.
Free for Most People
10 pieces of gear or less? Free membership has you covered. Got more? Go for Premium and pile it on!
Synchronize your activities from cloud
So long you use a gps watch or something similar, you won't need to enter your activities manually.
Assign gear to an activity in seconds
You want your data but don't want to spend any extra time. We get it and we are the same.
Your Data is Safe With Us
GearTracking stores data on your device as well as in the cloud. If you break your device, all you need to do is to login to your account from your new phone.

Tony Karasek
CEO, developer
Triathlete and software developer in no particular order. The whole idea came up from my personal need to track my gear usage and frustration with the tools available for the task.

Former runner and now a full time designer. It's nice and refreshing to contribute to a smaller project and one related to sport.

Being a runner, it's fun to work on an app which I'm also a happy user of.
Download the App for Free
Not convinced yet? Just give us a go!
Pricing
Try us for free and only go Premium if you love the app. We believe you will.
Unlimited activities and 10 Gear Records
Cloud synchronization, Data Backup
All the Free features
Unlimited Gear records
Contact Us
Phone
+420 725 865 117
Mon-Fri 8:00am - 8:00pm